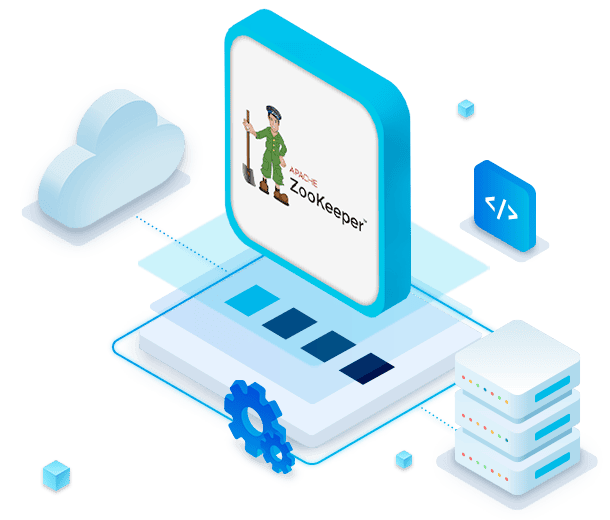 // Managed and Hosted
Instaclustr for Apache ZooKeeper™
Instaclustr provides a fully managed service for Apache ZooKeeper™—SOC 2 certified and hosted on AWS. Easily coordinate and manage your distributed applications with the help of Instaclustr Managed ZooKeeper.
Features of Managed ZooKeeper
Apache ZooKeeper is a powerful solution for coordinating and managing the configuration and state of distributed applications. Multiple Apache projects, such as Kafka, Flink, and Pinot, use ZooKeeper.
Looking for pricing details? Find the Right Plan for You
Download Datasheet
Learn more about the fully managed and hosted Apache ZooKeeper offering on the Instaclustr Platform. Achieve reliability for your data infrastructure by offloading ZooKeeper to us.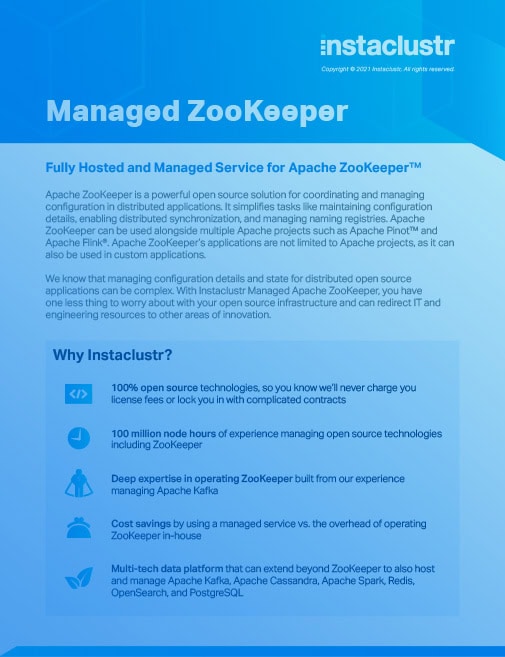 Benefits of Apache ZooKeeper as a Service
Apache ZooKeeper enables highly reliable, distributed coordination of the configuration of your different data technologies.

Focus on building your applications knowing that Instaclustr Managed ZooKeeper comes optimized for your needs.

Manage Application State
We know that managing configuration details and state for distributed open source
applications can be complex. With Instaclustr Managed Apache ZooKeeper, you have
one less thing to worry about with your open source infrastructure and can redirect IT and
engineering resources to other areas of innovation.
Distributed Synchronization
Managing distributed systems can be incredibly complex.
With Managed Apache ZooKeeper, we simplify your ZooKeeper deployment to make this process as seamless as possible.
Seamless Provisioning
Instaclustr Managed ZooKeeper makes it easy to provision or de-provision ZooKeeper clusters. You can easily add nodes directly within the Instaclustr Console or using our Provisioning API or Terraform Provider.
Optimized Configuration
With Instaclustr, you don't have to think about any of the tricky cluster configurations. We have done all the hard work so that you can spin up a production-ready cluster within minutes.
Our ZooKeeper configurations are tuned for reliability, performance, and security based on years of experience operating tens of millions of node hours for customers in every sector.
Expert Support
Instaclustr has over 100 million node hours of experience managing open source offerings, including Apache ZooKeeper. We have the deep expertise required to deliver the highest levels of service.
100% Open Source
Apache ZooKeeper is open source under the Apache 2.0 License and the project is governed by the Apache Software Foundation.
This provides customers with a clear roadmap and a community of no lock-in vendors, experts, and training providers for an enterprise-class software project.
Spin up a cluster in minutes