// Managed and Hosted
Instaclustr for Apache Cassandra®
Instaclustr provides a fully managed service for Apache Cassandra®—SOC 2 certified and hosted in the cloud or on-prem.
We customize and optimize the configuration of your cluster so you can focus on your applications.
Managed Apache Cassandra Features
Access the scalable power of the world's leading NoSQL database, Apache Cassandra, fully managed in the cloud or on-prem. With more than 200 million node hours of operational experience managing technologies like Cassandra, Instaclustr is the market leader for managed and hosted Cassandra. We have the deepest bench of expert Cassandra operators in the business.
By using our fully hosted and managed solution, you can stop worrying about your data infrastructure and focus on innovating throughout the rest of your application stack.
Looking for pricing details? Find the Right Plan for You
Download Datasheet
Learn more about the fully Managed and hosted Apache Cassandra offering on the Instaclustr Platform. Achieve reliability for your data infrastructure by offloading Cassandra to us.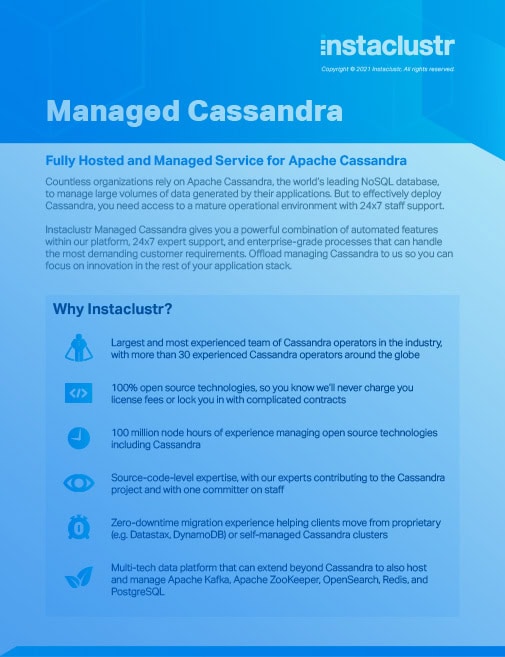 Benefits of Managed Cassandra as a Service
Apache Cassandra is the world's leading NoSQL database. Serving billions of customers daily, it is a key element in the success of many global enterprises and services.

Instaclustr makes the power of Cassandra easy to consume. We customize and optimize the configuration of your cluster so that you can receive all the benefits of our fully managed and hosted Cassandra service on AWS, Azure, GCP, DigitalOcean, IBM Cloud, or in your private data center.
Scalability
Cassandra is proven to scale from small clusters all the way through to servicing the needs of hyperscale companies with billions of customers.
With Instaclustr, you can easily take advantage of this to scale the capacity of your cluster up as you grow, or to handle bursting workloads.
Scaling goes both ways: we've helped customers scale down to reduce costs.
Low Latency
Apache Cassandra is highly performant and delivers low-latency responses for your workloads.
We have optimized the configuration of Cassandra for our supported environments so you can efficiently achieve low latency and high throughput.
Zero-Downtime Migrations
Cassandra, by design, provides continuous availability. We use that to offer our customers zero-downtime migrations.
Optimized Configuration
Our Cassandra configurations are tuned for reliability, performance, and security based years of experience operating tens of millions of node hours for customers in every sector.
We offer optimal instance types and configurations on each cloud.
Automated Health Checks
Cassandra performs best when you use it intelligently.
Our system monitors your schema and Cassandra usage and reports findings on a health check page to help you apply best practice usage of Cassandra.
Simple Provisioning
Cassandra's masterless cluster architecture allows it to scale massively.
With Instaclustr, you don't have to think about any of the tricky cluster configurations. We have done all the hard work so that you can spin up a production-ready cluster within minutes.
100% Open Source
Apache Cassandra is open source under the Apache 2.0 License and the project is governed by the Apache Software Foundation.
This provides customers with a clear roadmap and a community of no lock-in vendors, experts, and training providers for an enterprise-class software project.
"Instaclustr enables our Cassandra instances to scale rapidly, easily, and fully optimized for performance and cost."
Spin up a cluster in minutes