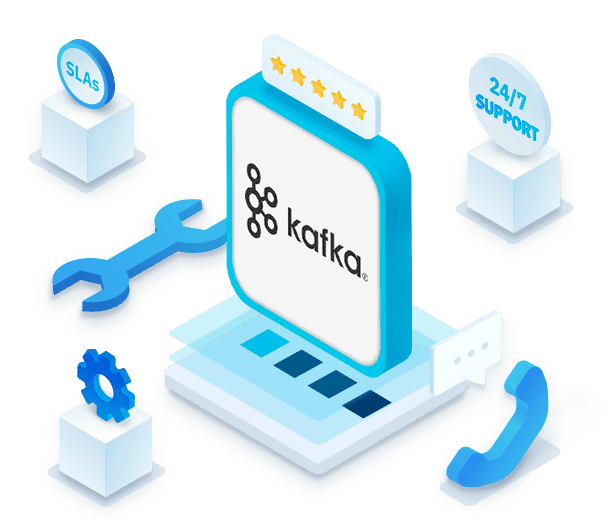 Support for Apache Kafka®
24×7 expert and dedicated support for Apache Kafka and related data infrastructure.
Dedicated Apache Kafka experts

We have a dedicated team of Kafka experts that provide support for our managed Kafka service, as well as for customers' on-prem deployments. Our team has extensive experience across a wide range of production customers and a variety of use cases.

24×7 support

Accelerate your time to market and your overall uptime and scalability in a measured, secure, and fully optimized fashion with our Kafka managed service and Kafka enterprise support. Both are backed by 24×7 monitoring and expert support.

Enterprise assurance

Apache Kafka support contracts with an SLA provide you with the assurance you need for your event-driven architecture and data processing pipelines.
Why Instaclustr
Instaclustr is on a mission to revolutionize the way companies use open source technologies
Enterprise support services

Our enterprise support service for Kafka is designed to resolve any operational issues our customers have with Kafka. In addition, our team of experts also provides code-base support for open source Apache Kafka—including developing patches as required. We offer three support plans to help you deal with whatever challenges pop up at any stage of your application's lifecycle.

SLAs

Our expert technical operations team provides 24×7 Kafka operations support for both managed Kafka and for customers who run their own Kafka installations. We have strict SLAs in place that ensures we deliver suitable operational support response time, providing you with unparalleled access to our extensive Kafka expertise.

Run Apache Kafka in production

We can provide you with the confidence to run Kafka at scale in a production environment. We make it easy to deploy and tune your clusters, helping you get the application performance and reliability you desire.
Looking for emergency Apache Kafka support?
Are you having operational issues with your self-managed Apache Kafka production environment?
Contact us and a member of our team will reach out to you within minutes. We'll quickly help you get a contract in place so we can get to work resolving your Kafka issues and get your environment operational as fast as possible.
Spin up a cluster in minutes